50th Anniversary T-Shirt reprint
The 50th Gasshuku commemorative t-shirt turned out to be a bit of a hit and many of the gasshuku attendees have enquired about a possible reprint.
We need a minimum print run of 50 to make it viable so treat yourself to a couple!
The design incorporates the images and names of our guest instructors and the names of our many friends and supporters plus the names of the first 100 or so that purchased in the first round. A complete list of names are at the bottom of this page.
The t-shirts are also available without the names.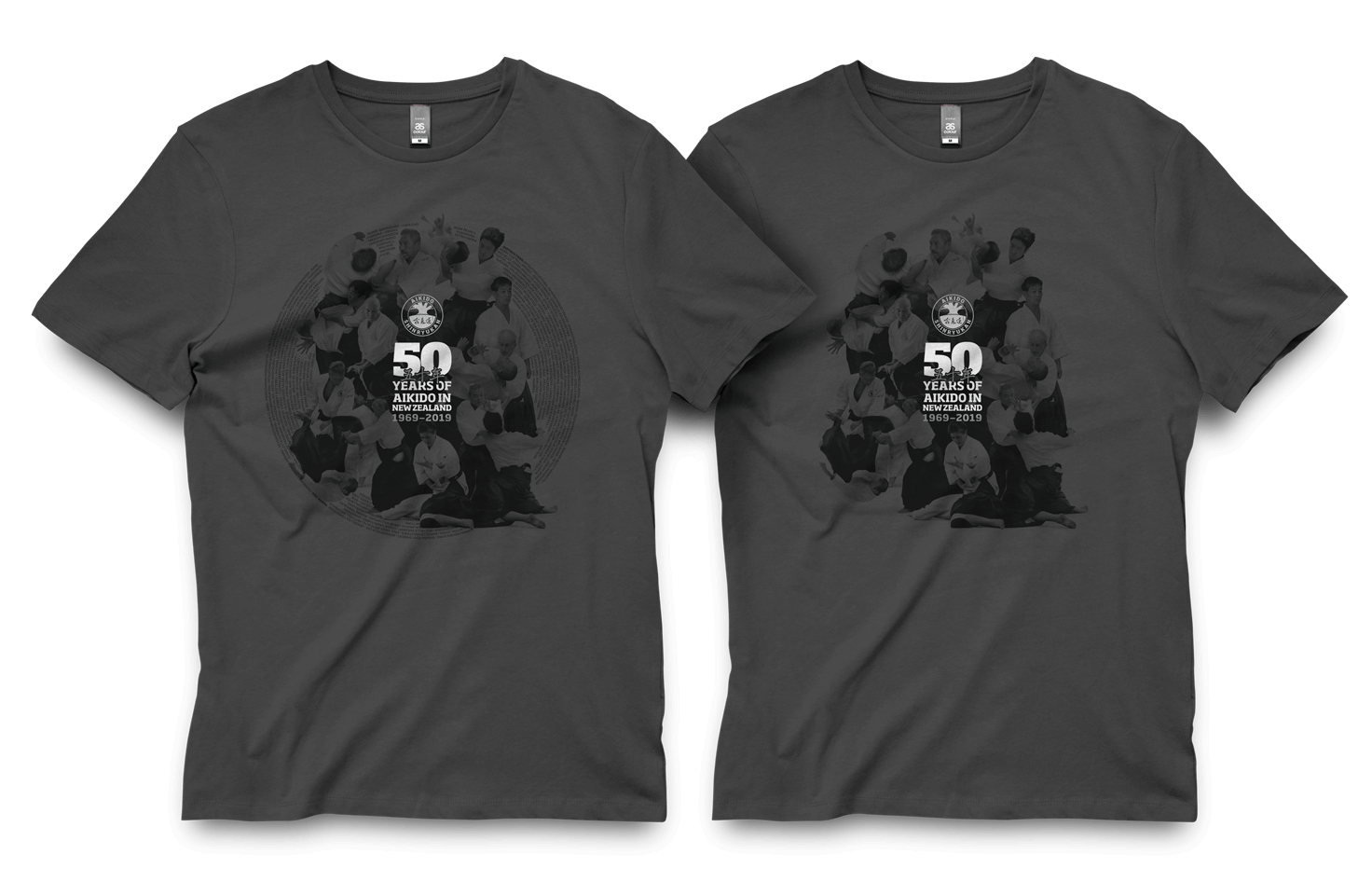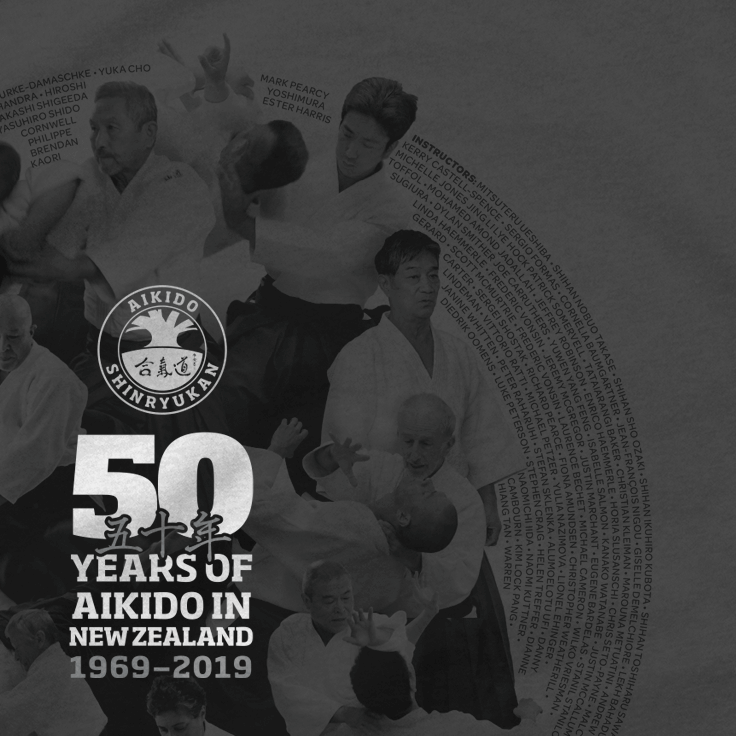 Design sample.
The t-shirts are of high-quality, non-shrink material (AS Colour brand) with high-quality screen printing and are produced here in NZ.
The t-shirts cost NZ$30.00 each and will be available for pick up at Hombu Dojo or can be posted to you.
How we measure

To purchase please complete the online order form.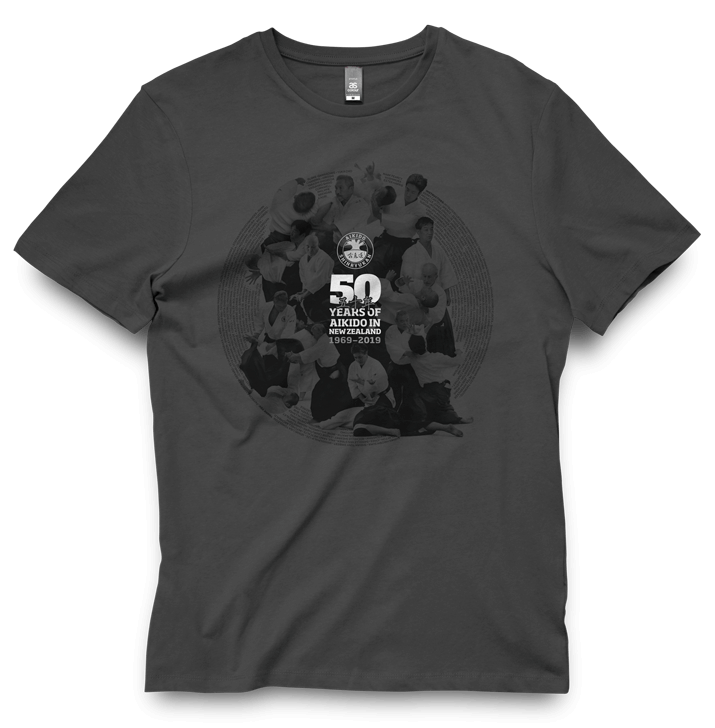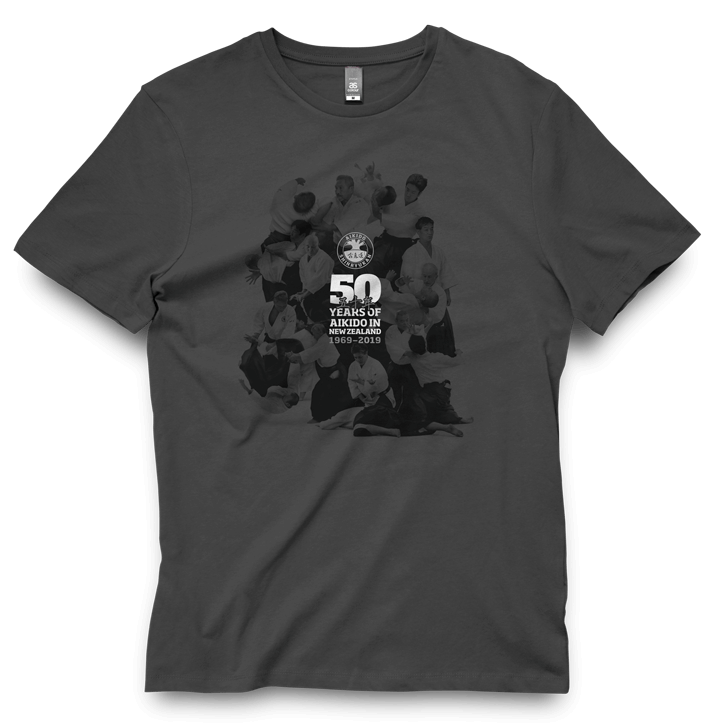 ---
List of names
Guest instructors:
AIKIDO HOMBU DOJO-CHO MITSUTERU UESHIBA
SHIHAN NOBUO TAKASE
SHIHAN SHO OZAKI
SHIHAN IKUHIRO KUBOTA
SHIHAN TOSHIHARU SAWADA SHIHAN HIROSHI SUMA
SHIHAN TONY SMIBERT
SENSEI LISA TOMOLEONI
Special thanks:
BARBARA TAKASE
CONSUL-GENERAL MR MINORU KIKUCHI
SIMON PUFFETT
PAUL DAVIDSON
DIEDRIK OOMENS
DARRYL STEWART
LINDA HAEMMERLE
ENRICO HAEMMERLE
ROCHELLE SHERRIFF RICHARD PEARCE
DANE MITCHELL
KIMIKO SAWADA
Gasshuku crew:
AL UFI
AMY SHERRIFF
AVI SHAUL
BLAKE HUTTON
BRUCE BONITA
CHRISTIAN KLEIMAN
CHRISTOPH PASZYNA
DANIELLE VAN STRIEN
DEAN ANDERSON
DEAN SPENCE
DUNCAN DWIGHT
ELLA DAVIDSON
EUGENE BARDELAS
GREG BACCHUS
IZUMI KINCAID
JEFFREY ROBINSON
KARL DORREEN
KEIKO HARA
MARC CHEMALY
MARTIN HUGHES
MASAMI TODA
PIERGIOVANNI MARZINOTTO
TATSUICHIRO KOMIYA
SAMEERA MANURANGA
Friends and supporters:
AKITOMO OHKOSHI
ALAN WADE
ALEXANDRE VALAIS
ANDRÉ MAURY
ANDREW BAKER
ANDREW WATSON
ANDREW WILLIAMSON
ANNA TREFFER
APHONSE CHENE
ASHLEY SHARPE
AZLAN DAUD
BARRY EASTWOOD
BEN HOFFMAN
BRUCE ROBINSON
CALLUM COCKERELL
CHRIS CLARK
CHRIS SETO-PAYNE
COLIN GREALY
CONNIE TOIA
CORNELIA BAUMGARTNER
DANNY MCINTYRE
DAVID SCOTT
DIANNE HAYNES
ERIC BECHET
ERIC MAZERAT
ESTHEL DE TOFFOL
FREDERIC VONSIN
GEORGE STEVENS
GLEN MILLAR
HELEN TREFFER
HENRY LYNCH
HIDEYUKI AGATA
IRENE WILLIAMSON
IVAN MCKENZIE
JACINTO LOPE ESCASINAS
JACOB SPACKMAN
JANINE WHITTEN
JASON BEVAN
JEANNIE BENSON
JIM TONGSON
JOHN BROOKS
JOHN FAHEY
JOHN WILSON
JULIE HARDING
KAR YEE FRANSHAM
KASUN TALPAWILA
KATHY IRVINE
KEALA CAMPTON BAKER
KEITH IRVINE
KELLY NGUYEN
KERRY CASTELL-SPENCE
KEVIN ALLEN
KIT BARKER
LAURENCE BECHET
LIAM VENTER
LINDA MURRAY
LIONEL EHINGER
LYN MEACHEN
MAKI AGATA
MALCOLM JOHNSTON
MARIE PETERY
MARIE THOM
MARION TAN
MARK PEARCY
MAROUNA METUATINI
MATT HOBBS
METTA RASIRI
MICA WILSON
MICHEL SHAN
MICHELLE MCDONALD
MIKE ASHWELL
MILOS ZVIJER
MIN CHEN
MOHAMED JADALLAH
NEIL SMITH
NGAIRE TIMPERLEY
NIKKI SMITH
OSCAR DE TOFFOL
PAPU SIAMEJA
PATRICIA GERARD
PATRICK COJAN
PATRICK LOW
PATRICK O'REGAN
PAUL EVANS
PETER RAHARUHI
PHILIPPE GERARD
RAEWYN IRELAND
RHYS WILKINS
ROLAND STETTLER
SAI AGATA
SARAH BAKER
SCOTT MCMURTRIE
SERGEI SHOSTAK
SHANE BANKIEN
SHAYNE GARBES
STEPHANE CAILLAT
STEPHEN CRAIG
STEVE JAMESK
STEVE WEST
SUZIE LACK
SYLVAIN BECHET
TAMARA KOHN
TATAIARANGI BAKER
TE HURINUI KARAKA-CLARKE
TEREPAI MIR
TERRY MAH
THOMAS BERRYMAN
THOMAS WOODS
TRISTAN BAYNHAM
VICTOR SUGIJARTA
WILKO FRIESMAN
YASUHIRO SUGIURA
ZANA COLLINS